CHAMPS CORNER 2 - New Food Kiosk Operator Nov. 5/18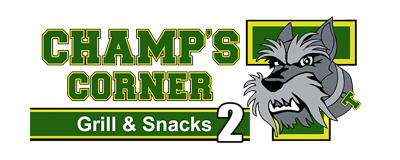 We are thrilled to annouce that the Portage Terriers will be operating the food kiosks in the Central Plains RecPlex and Southport Bowl, effective November 5, 2018! They will offer food and beverages for all users of the RecPlex and the Southport community.
Hours of Operation
Monday - Friday: 8:00am - 1:00pm and 5:00pm - 9:30pm
Saturday: 1:00pm - 9:30pm
Sunday: 12:00pm - 5:00pm
Catering Menus
Catering menus are available for all private events, group rentals and leagues in the RecPlex. They are also available for any Southport tenants and special events or meetings in the community.
Central Plains RecPlex Catering Menu
| | |
| --- | --- |
| Menu Items | Prices |
| Mini Donuts | $4.99 |
| Nachos | $3.99 |
| Popcorn | $3.49/$4.49 |
| Muffins | $1.50 |
| Cini Buns | $3.49 |
| Chocolate Bars | $1.77 |
| Chips | $1.54 |
| Gum | $1.99 |
| Candy Cups | $2.21 |
| Chicken Ranch Wrap | $7.49 |
| Deli Wraps | $7.19 |
| Side Salads | $3.99 - $5.99 |
| Sandwiches | $3.99 - $4.99 |
| Hotdogs | $3.30 |
| Smokies | $4.99 |
| Coffee | $1.77 - $2.21 |
| Hot Cappuccino | $2.21 - $3.09 |
| Slush Puppie | $1.34 - $2.21 |
| Bottle Drinks | $2.21 |
| Water | $1.99 |
| Juice | $2.21 |
| Chocolate Milk | $1.77 |
| Beer (18+) | $4.35 |
| Palm Bay (18+) | $4.35 |