Facilities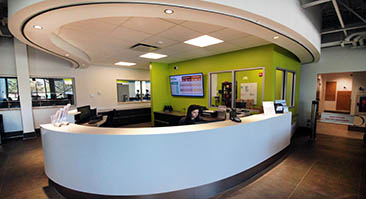 The Central Plains RecPlex is equipped with facilities and equipment to help you have fun, get fit and be healthy!
Our facility features:
a cardio area
a weights area
indoor and outdoor running tracks
an indoor climbing wall
three outdoor baseball diamonds
two outdoor tennis courts
a soccer field
a nine-hole golf course
a five-lane/five-pin bowling alley
a full-sized gymnasium
Check out ALL of our activities and programs.
Weights Area

Build muscle, lose weight, and reach your fitness goals! Here's what you'll find in our weights area:
< 100lbs in Free Weight Dumbbells
25+ Different Weight Lifting Machines
Over 1,500 lbs in Weighted Plates
2 - 25' Battling Ropes and more!
Bumper Plates
1 Sled
Cardio Area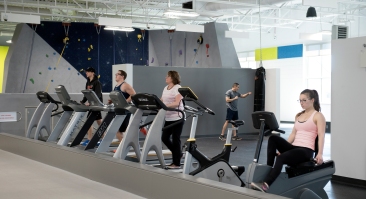 Get the blood flowing, build your endurance, and feel great! Our cardio area includes:
3 Treadmills
1 Self Propelled Treadmill
Recumbent and Stationary Bikes
2 Ellipticals
A Step Climber
2 Punching Bags
1 Row Machine
2 Battle Ropes
1 Jacob's Ladder
1 Jacob's Stairway
1 Stepper
Climbing Wall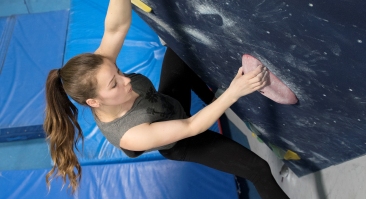 Reach new heights! – Climbing Wall features:
Get a full mind and body workout on the largest indoor climbing wall in Western Manitoba. You will improve your strength, endurance, and skill on our 30' top rope climbing wall with many routes to choose from!
(Visit our Rock Climbing page for more information.)
Running/Walking Tracks
Take the first step to health and wellness on our indoor or outdoor walking tracks.
Our 110-metre, rubberized indoor track will allow you to keep moving through all seasons without the risk of injury (not to mention the luxury of air conditioning!)
Our standardized 400-metre, graveled outdoor track is great for getting out and enjoying the weather, as well as for sport-specific cardio training.
Gymnasium
Interested in renting the Gymnasium, or some of our other facilities? Or maybe you're interested in holding a fitness class? The RecPlex has rental packages available for all. Please use the Contact Page to enquire.
Gym Rentals
Half Gymnasium
$30/Hour
Full Gymnasium
$50/Hour

​Multi-Purpose Room
Multi-Purpose Room Rentals
Hourly Rate
$30/Hour
Half Day Rate
$80
Day Rate
$150